"Alphabet Soup" Documentation by "sney2002" v1.0
---
"Alphabet Soup"
Thank you for purchasing my game. If you have any questions, please feel free to contact me here.
---
Table of Contents
---
Features - top
(new) Manage game options with a friendly admin interface
(new) unicode support
Compatible with all browsers (even IE6 o_O)
Works on IPAD!!!!!
Easy to install
very addictive (is this a feature? XD)
Very light-weight
Great support
---
A) Getting started - top
Before start using this script you need to change the username and password:
Now you can start creating puzzles, just go to the admin page http://<domain>/<install-dir>/admin/, after login, click on "create puzzle" and start adding words.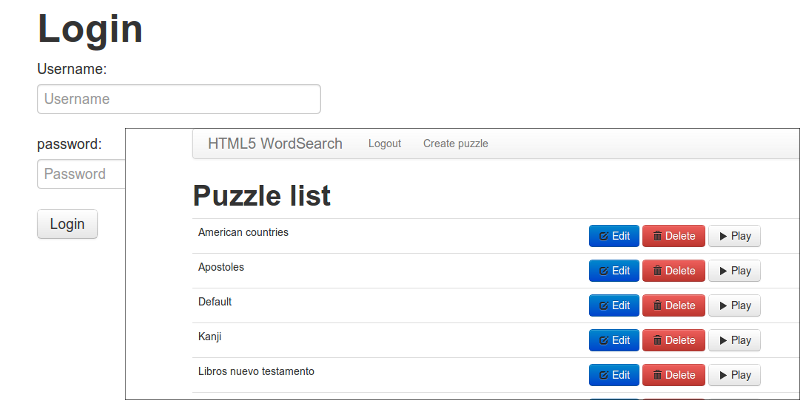 Because the max size of the grid is 20 and the max number of words is size * 2 (see below), you must add at least 40 words to make the game work properly. The script choose random words of the supplied.
Note: You can put different words in the list and in the board, just separate these with a colon (e.g. blue:azul, japan:tokyo)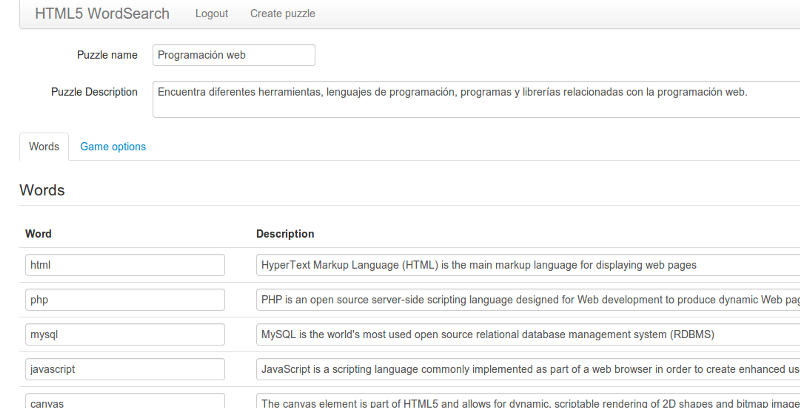 Congratulations: You have HTML5 WordSearch installed.
---
B) Available options - top
Below is an example with all available options and their defaults values:
you can change game options individualy per each puzzle through the admin interface
Note: you can change the default game options that are displayed in the admin panel, just edit the file admin/include/config.php (useful if for example you rarely use the english alphabet).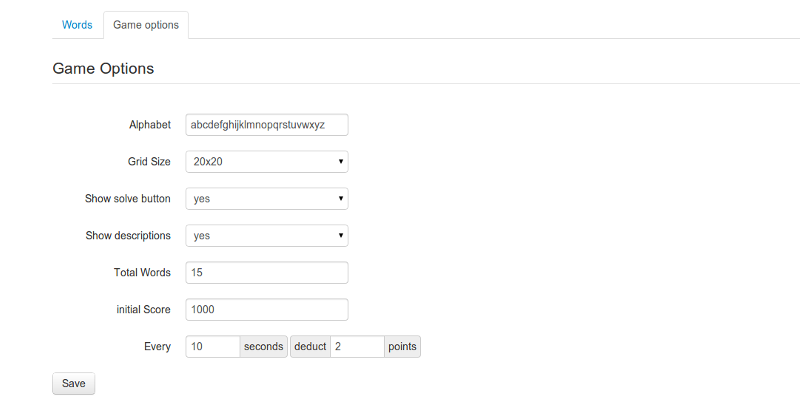 ---
C) Saving score - top
So you want to save the score of your users in a database?, set the option showForm to true to display a form to the user when the game is finished, this way the user can send the score to the server:
Note: The script does not save the score, it just sends the info to the server so you can save it.
time: Time required to complete the puzzle in ISO 8601 format (hh:mm:ss).
score: score achieved.
Use these to rank the players.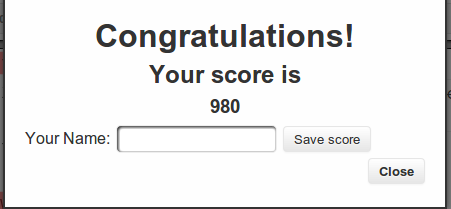 ---
D) CSS Files and Structure - top
There are two CSS files.style.css contains all of the specific stylings for the app. The file is separated into sections using:

/*== Word Search puzzle ==*/

/*== Options bar ==*/

/*== Clock ==*/

/*== Select ==*/

/*== Share buttons ==*/

/*== Modal window ==*/

Note: You may want to change the div.modal rule at the Modal Window section.
The buttons.css file specifies the appearance of the buttons.
.
---
E) JavaScript - top
This game imports two Javascript files.
app.js: load and initialize the game.
To initialize the app just create an instance of game.Soup() after the DOM is ready. You can also specify an object with options (see above).
---
F) Events - top
There are three events you can subscribe:
word.hint: Emitted when use the solve button.
word.found: Emitted when a word is found
game.finish: Emitted when the game is finished (Duh), you receive the time and score.
---
G) Sources and Credits - top
I've used the following code:
---
Jhonatan Salguero
---